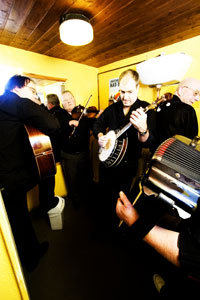 Maximum Pastry! is one of the north-east of England's hottest and most respected trad bands, playing a mixture of Irish, Scottish and Northumbrian music for all kinds of functions - ceilidhs, weddings, parties, concerts and festivals.
With years of collective professional musical experience and awards, Maximum Pastry! can provide great entertainment for any occasion. We have performed all over the country, and in Ireland and the rest of Europe, giving audiences a great night of music or dance.
The band features some of the top musicians in the north who together create a unique and powerful sound. From slow haunting airs to driving jigs and reels, it is the quality of the music that underpins everything that we do, and the way that we do it - it even gave us our name ! All of the musicians in the band are locally well-known and respected individual performers in the traditional music scene, and have years of professional experience with different bands and musicians.

NEWS
Maximum Pastry! will be recording their next album at the end of the summer. We hope to have this ready for release at Christmas - keep checking the site for more details.